Your life, now organized
Improve personal organization and don't forget important things.
Remember birthdays and anniversaries
Organize your everyday events and to-do things
Easy, web-based application manager
Intelligent estimation of events' periods and
automatic postpone
Email Reports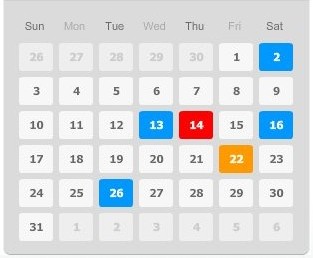 Tools to remember dates
Birthday Lab is offering to you tools as:
Birthday Manager
Anniversary Manager
Evets Manager
Sync with SS Birthday Reminder desktop version
Email alerts
Calendar view of events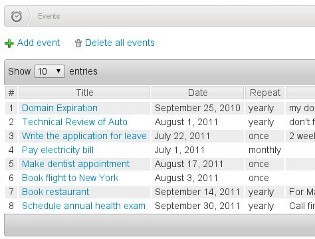 Everybody needs help
We will help you to track your events:
Easy to use alarm app
Nice and intuitive user interface
You can store events with detailed information
Supports your iPhone, iPad and other mobile devices
Import contacts from Yahoo, Google and Outlook
Best birthday reminder email service you need
Birthday Lab will remind you.
Just give it a try and see.
You can access it anywhere and anytime
It is free and full of features
Quickly switch between your birthdays and events
Many other features coming everyday
37180 people trust us in sending them birthdays and events notifications
What's inside?
Mail notifications

All notifications right in your mail box

Get an email everytime you have an important event to make sure you'll not forget it.
Facebook integration

Easy birthdays import from different sources

Get friends birthdays right from your Facebook account and don't ever forget their birthdays.
Share notifications

Share your notifications with everyone

Choose what you want to share with family members, your friends or your company team.
Calendar view

View dates in calendar mode. Print them.

Manage your important dates easy in calendar mode. Organize your events in advance and print your monthly calendar to hang it in your home or office.
Easy customization

Customize the time when you want to get your notifications.

Set your timezone and hour when you want to get notifications. Specify how many days in advance you want to get the additional reminder. No way to forget it.
Plans & Prices

Email Free

1 notification per email Unlimited notifications in the online calendar Specify hour and days when you want to receive notifications And many other features

free trial + free gift
Email Premium

Unlimited number of notifications per email Share notifications with your family and friends No ads in your emails or on the website Our gratitude

♥

for support

$8.99
$4.99
per year
Desktop App

Customizable contacts info and printable reports Application can be used by unlimited nr. of users Get all your notifications right on the PC startup 1 computer lifetime license

$9.95

pay once / per PC



SMS Pack

Email Premium
(1 year) Desktop App
(1 computer license for life) 400 SMS notifications per year You're our best buddy

$125

per year
Create a free account